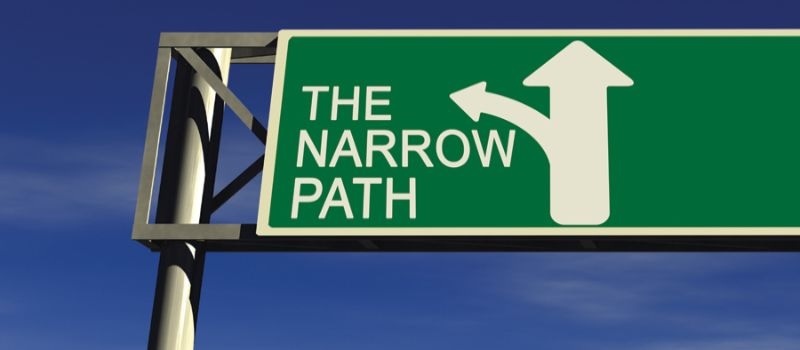 What do you sense the Lord saying to you in this passage?

"Enter through the narrow gate." (Matthew 7:13)
The way of life that Jesus practices and teaches is not an easy one.
But difficult as Jesus's teachings are, they make life better for everyone.
The Jesus way is the only way to make things better in the world.
Hate breeds hate, unforgiveness and revenge hurts everyone, greed ruins the soul.
Everyday we face situations where we must choose Jesus's way of responding.
Satan lures us daily to respond in self-interest or self-protection.
Usually we can predict the Jesus' way… it is the more difficult option.
Why do so few find this narrow path… because so few want to find it.
This path is always there as an option for us, but we avoid it as much as possible.
Jesus is inviting us – urging us – to take the better way, the way of love.
But what does this look like in the daily details of my life?
At work or at home, with my family or friends or coworkers?
When thing happen, do I pause to consider how best to respond… like Jesus?
In the moment of response, I have to pause and consider the options.
Will I choose the 'narrow way', the harder path, the loving response?
PRAYER
Lord, the narrow way is not hidden from us. We prefer not to see it, we avoid it if we can. Your way is not easiest, but it is best. Help me to find it, to want it, to choose it in the daily details of my life.