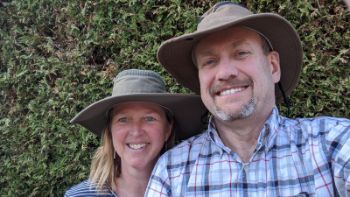 Today is DAY 8 (May 10).
Today we begin the next series, 'In The Dust of the Rabbi'.
His first comments about a disciple were overwhelming.
I am not THAT passionate, I am not THAT zealous or strong.
But then he shows how Jesus did not wait for the zealous to come to Him.
In fact He often discouraged those who those who wanted to follow Him.
Instead He went to those who had already decided not to be passionate disciples.
Those who were fishing had not been learned enough to keep going to school.
These are the ones that Jesus chose to follow Him.
"You did not choose me, but I chose you so that you might go and bear fruit." (John 15:16)
Jesus takes ordinary people, so that he can do extraordinary things through them.
We do not need to be exceptionally gifted or passionate, we just need to be real and sincere.
To surrender our ordinary selves to Him, and let Him work through us in our ordinary lives.
This is how He brings glory to God, to show the world that He uses the anybodies.
This is very humbling, yet very inspiring because…. He chose you, He chose me.
"Brothers and sisters, think of what you were when you were called. Not many of you were wise by human standards; not many were influential; not many were of noble birth. But God chose the foolish things of the world to shame the wise; God chose the weak things of the world to shame the strong. God chose the lowly things of this world and the despised things—and the things that are not—to nullify the things that are, so that no one may boast before him. It is because of him that you are in Christ Jesus, who has become for us wisdom from God—that is, our righteousness, holiness and redemption. Therefore, as it is written: 'Let the one who boasts boast in the Lord.'"
For more information about this virtual tour, click here.